Muller Raptor 1525

Muller Raptor 1525CN (CoNveyorized automatic)
For customers who prefer a traditional turntable style stretch wrapping machine, the Raptor 1525 offers reliability and efficiency. The Raptor 1525 is designed and built for long service life and low maintenance operation. Heavy gauge steel, ring gear drive systems and PLC controls are just a few of the features that make the Raptor 1525 the most rugged turntable wrapper in the industry.
Featuring the same SG3000 Film Carriage and Cut/Seal technology as its bigger automatic brothers (the Octopus), this economical system can suit the needs of a lower throughput application or when space restrictions are paramount.
Muller Raptor 1525CN specifications: click here for a Machine Brochure (pdf).
Click here for comparison charts to help you find a Conventional Stretch Wrapper model to suit your needs and budget.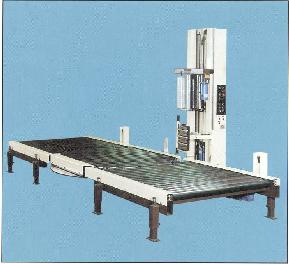 Muller Raptor 1525P (Portable automatic)
This conveyorless version of the Turntable Automatic stretch wrapper is purposefully designed for a warehouse enviroment where forktrucks are in use. In comparison to standard semi-automatic stretch wrappers, efficiency is improved and cycle time reduced by negating the need for the operator to initially attach the film and, upon completion of the cycle, stop to cut and wipe down (seal) the film tail to the load. An added benefit is the fact the film tail is heat sealed to the load rather than a simple "tuck under" or "wipe down" seal by the operator. Furthermore, the advantage of portability (shared with turntable semi-automatics) is retained by the presence of forktruck tubes for moving with a forktruck and the use of standard 120 VAC power. Coupled with an optional portable air compressor, this machine can be used anywhere there is a power outlet in your warehouse.
Muller Raptor 1525P specifications click here: for a Machine Brochure (pdf).
Click here for comparison charts to help you find a Conventional Stretch Wrapper model to suit your needs and budget.
The Raptor 1500 functionally replaces former models:
HPA-800, ECA-800, RPA-800, HPC-800, HPAX-800, 405, 405A, 4.45, 4.40, 5.50 and 5.55.
Please Note
:
The above specifications do not represent all options available for these machine. Please contact us for more information.
Black Wire Mesh Safety Cover Upgrade

When the economics of a retrofit film carriage don't make sense, the issue of changing the film safely can still be dealt with through the installation of a Black Wire Mesh Safety Cover which shares the advantage of forcing the door to be opened to thread the film, and at the same time electrically disengaging the film carriage power, even in the event that the operator forgets to turn off the power.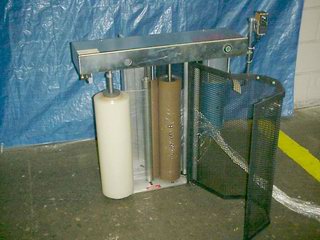 Features:

available for about 1/5 the cost of a new retrofit film carriage

safer to change film

retrofittable to any previous model Muller film carriage

can be installed, on site, in about a half day

most older film carriages can be geared up to 225% prestretch during the retrofit of the Safety Cover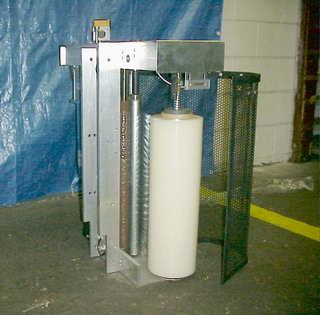 Contact Us for details.