Contact Us
General Information

General Request Form

GAP Services, Inc.
P.O. Box 82, 95 Cousins Drive
Aurora, Ontario
L4G 4J9

GAP Services, Inc.
95 Cousins Drive
Aurora, Ontario
L4G 1B2

general@genautopkg.com (Note: Mail sent to this address is automatically dispersed to all managers to ensure a timely response.)

Please Note: Support for the Toronto local phone number has been discontinued. Please contact us using one of the above noted means.
| | | |
| --- | --- | --- |
| | | |
| | | Equipment and Consumables Sales |
| | | Engineering, Installations, and Equipment Service |
| | | Equipment Service, Parts, Rentals |
| | | Emergency After-Hours Service |
Black Wire Mesh Safety Cover Upgrade

When the economics of a retrofit film carriage don't make sense, the issue of changing the film safely can still be dealt with through the installation of a Black Wire Mesh Safety Cover which shares the advantage of forcing the door to be opened to thread the film, and at the same time electrically disengaging the film carriage power, even in the event that the operator forgets to turn off the power.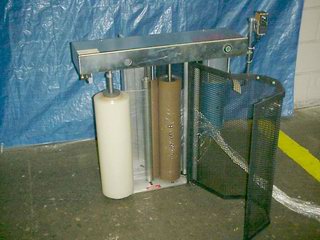 Features:

available for about 1/5 the cost of a new retrofit film carriage

safer to change film

retrofittable to any previous model Muller film carriage

can be installed, on site, in about a half day

most older film carriages can be geared up to 225% prestretch during the retrofit of the Safety Cover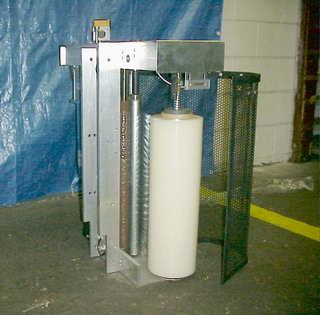 Contact Us for details.