Muller Cobra 525
Overview

The Cobra 525 uses low cost 20" width film to process 15 to 35 loads per hour. An optional 30" film delivery system is available to improve speed, but at a higher minimum film cost per pallet load. The Cobra's advanced "low mass" design offers faster starting and stopping with less stress and strain, plus lubrication-free main drive components for exceptionally low-maintenance operation.

Rotary Arm Advantages

The Cobra 525 can straddle an existing conveyor, scale, or AGV, saving valuable floor space.
The Cobra is perfect for unstable or light loads that cannot be moved or rotated during wrapping.
Because the load remains stationary, wrapping speeds can be higher than turntable systems allow.
When not in use, the rotary arm tucks in against the wall or column, freeing up useable floor space

Standard Machine Specifications: click here for a PDF.

Click here for comparison charts to help you find a Semi-automatic Stretch Wrapper model to suit your needs and budget.
The Cobra 525 functionally replaces former models:
2501, 2502, Multee, Cobra I, Cobra II, Cobra III,Cobra IV, Cobra 32, Cobra 500, Ultra III and Ultra IV.
Please Note
:
The above specifications do not represent all options available for these machine. Please contact us for more information.
Black Wire Mesh Safety Cover Upgrade

When the economics of a retrofit film carriage don't make sense, the issue of changing the film safely can still be dealt with through the installation of a Black Wire Mesh Safety Cover which shares the advantage of forcing the door to be opened to thread the film, and at the same time electrically disengaging the film carriage power, even in the event that the operator forgets to turn off the power.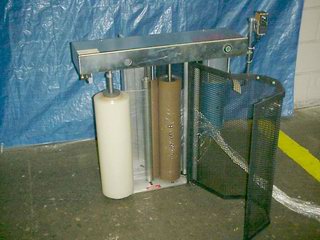 Features:

available for about 1/5 the cost of a new retrofit film carriage

safer to change film

retrofittable to any previous model Muller film carriage

can be installed, on site, in about a half day

most older film carriages can be geared up to 225% prestretch during the retrofit of the Safety Cover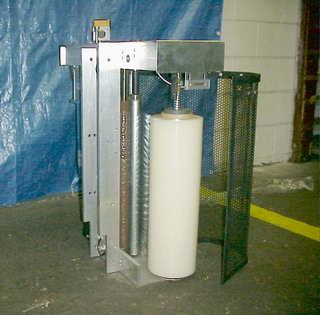 Contact Us for details.