GAP Services, Inc.
GAP Services, Inc. has had a long history as a primary provider of the full Muller stretch wrapper product line to North America's Fortune 500 companies. We offer New and Reconditioned Stretch (Pallet) Wrapping and Packaging For Distribution equipment, Installation, Preventive Maintenance, and Breakdown services plus Parts, Retrofits, and Rentals. Working with experienced, factory trained, and certified stretch wrap technicians and capable support staff, we offer service on all makes and models of stretch (pallet) wrappers. We also offer 24 Hour Emergency Service and Technical Support to established service account customers.
We BUY and SELL used, end of lease, and excess stock Stretch Wrapping equipment. Please see our stock page for details on our current offering. If you have something to offer, contact us with details!
With our broad packaging for distribution product lines, and over 25 years of experience as a systems supplier and integrator, GAP can offer innovative solutions to suit all of your stretch wrapping needs.
Access to this web page is being maintained as a resource for heritage Muller Newtec and ITW Muller product lines and services!
Many of these machines are still available as used and reconditioned systems!
Brand new retrofits and parts are still available from the manufacturer , guaranteeing the serviceability of these machines for years to come.
For current Muller LCS product lines, access to breakdown service , installation services, parts, retrofits, and new /used / reconditioned pallet stretch wrapping equipment ...
... please contact the authorized Muller LCS sales agent below for assistance ...
Wrapper Direct Inc. is an authorized sales representative for quality pallet stretch wrapper manufacturers, including Mach 1 Packaging , Phoenix Wrappers , and Muller LCS (Load Containment Solutions).
WDI is dedicated to assisting prospective buyers of pallet stretch wrappers to find the type, make , and model of a wrapping machine to suit their needs.
We provide technical assistance, produce technical quotations, and facilitate the supply of the equipment.
Wrapper Direct
'
s web page is designed to be a
one stop online shopping experience
, providing product selection guidance, product comparisons, product specifications, product options, manufacturer's list pricing, and more ... all in a modern,
easy to use online web interface
.
What's in a name?
" Wrapper " - Refers to the product ... pallet stretch wrapping machines and associated equipment.
" Direct " - Refers to the business model of Wrapper Direct Inc. ... to ship brand new equipment direct to your door from the factory.
Muller's new models of stretch wrappers.


Muller Octopus 303 - automatic rotary ring

• Compact, fits into tight areas
• Fits over existing conveyors
• Lowest priced Octopus automatic
• Wraps up to 40 loads per hour


Muller Raptor 1525 - automatic turntable

For customers who prefer a traditional turntable style stretch wrapping machine, the Raptor 1500 offers reliability and efficiency. The Raptor 1525 is designed and built for long service life and low maintenance operation. Heavy gauge steel, ring gear drive systems and PLC controls are just a few of the features that makes the Raptor 1525 the most rugged turntable wrapper in the industry.


Muller Raptor 525 - semi-automatic turntable

The Raptor 525 provides a cost effective means of wrapping in a semi-automatic environment. It is suited to applications where portability, ease of use, and an extensive array of options are the primary considerations.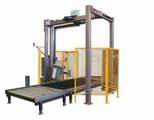 Muller Cobra 1525 - automatic rotary arm

The unique rotating arm of the Cobra 1525 represents a means to effectively wrap loads without spinning them on a turntable. This method of wrapping is especially useful when wrapping light loads, fragile loads, or any load which might fall apart if spun on a turntable. The Cobra 1500 is available in a wide range of prices and capabilities and offers several options to meet even the most challenging stretch packaging operations.


Muller Cobra 525 - semi-automatic rotary arm

The Cobra 525 provides a cost effective means of wrapping in a semi-automatic environment. It is particularly suited to wrapping light loads, fragile loads, or any load which might fall apart if spun on a turntable.


Contact Us for details.