Muller Octopus 606
Overview
The Muller Octopus 606 represents a system suitable for many high speed applications with process rates up to 100 loads per hour, and a maximum ring speed of 40 rpm. It offers an industry standard Allen Bradley PLC controller, and a full compliment of option packages. As with all Octopus models, the ability to start and stop the wrap cycle anywhere on the load can result in a film cost reduction of up to 30%.

Please see this Introduction to The Muller Octopus providing a detailed discussion of the concepts, features, benefits, etc. of the Octopus.
Click here for comparison charts to help you find an Octopus model suitable to your needs and budget.
Standard Machine Specifications: click here for a PDF.
Please Note: The above list does not represent all options available for this machine. Please contact us for more information.
Black Wire Mesh Safety Cover Upgrade

When the economics of a retrofit film carriage don't make sense, the issue of changing the film safely can still be dealt with through the installation of a Black Wire Mesh Safety Cover which shares the advantage of forcing the door to be opened to thread the film, and at the same time electrically disengaging the film carriage power, even in the event that the operator forgets to turn off the power.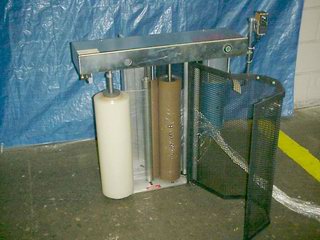 Features:

available for about 1/5 the cost of a new retrofit film carriage

safer to change film

retrofittable to any previous model Muller film carriage

can be installed, on site, in about a half day

most older film carriages can be geared up to 225% prestretch during the retrofit of the Safety Cover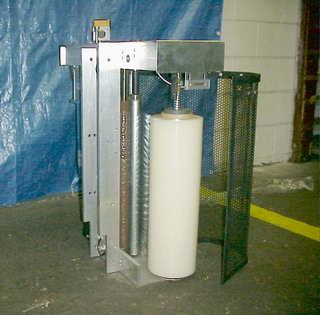 Contact Us for details.