Muller Octopus 404
Overview

The Octopus 404 stretch wrapping machine is designed for medium to high speed applications, with a process rate of up to 60 loads per hour and a maximum ring speed of 21 rpm. It can mount over existing conveyor or can be equipped with its own conveyors. The lower purchase price of the Octopus 404 helps to conserve capital funds while fewer moving parts help to keep maintenance costs to a minimum. As with all Octopus models, the ability to start and stop the wrap cycle anywhere on the load can result in a film cost reduction of up to 30%.
Please see this Introduction to The Muller Octopus providing a detailed discussion of the concepts, features, benefits, etc. of the Octopus.
Click here for comparison charts to help you find an Octopus model suitable to your needs and budget.
Standard Machine Specifications: click here for a PDF.
Please Note: The above specifications no not represent all options available for this machine. Please contact us for more information.
Muller SG3000 Film Carriage Retrofit

The SG3000 film carriage is retrofitable to all makes of pallet stretch wrappers, semi-automatic, turntable automatic, and rotary tower automatics. The SG3000 film carriage has demonstrable superiority over older and competitor designs. The primary advantages of the design are safety, reliability, ease of film loading, long term consistency of prestretch levels, and stretchwrap film savings.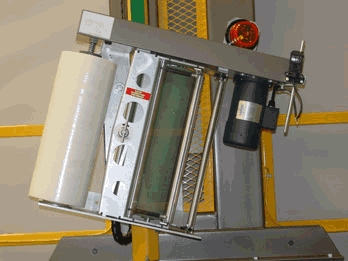 Features:
easier to change film
safer to change film
easily retrofittable to any previous model Muller stretch wrapper
maximize film economy (250% plus prestretch)

greater reliability
can be installed, on site, in about 1 day
For more information visit: http://www.genautopkg.com/SG3000page.htm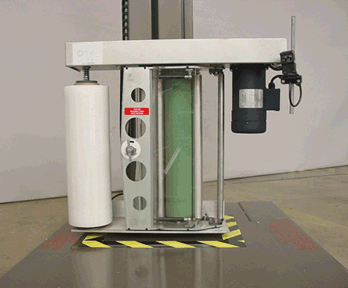 Contact Us for details.